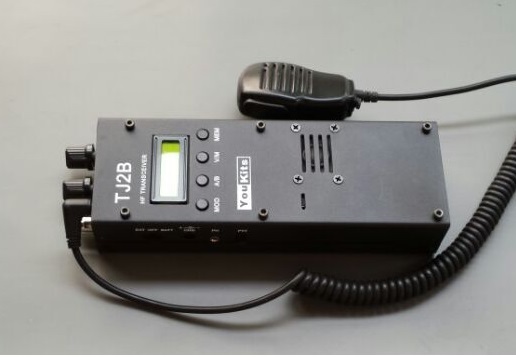 An updated version of the YouKits TJ2B will be released later in 2017. The TJ2B is a handheld transceiver featuring SSB and CW transmit capability on the 40, 20 and 17 meter amateur bands plus 5-25 MHz on receive.
Fully assembled, ready to use. Not a kit.

Transmit SSB and CW on the 40, 20, and 17 meter ham bands. 5-25 MHz receive.

3 to 5 watts output power

6 VFO tuning rates selectable

Dual VFO's with 40 memories

Built-in speaker, microphone, and PTT button

Rechargeable lithium battery pack included, 1600 mA. Charging cable included.

$329 includes TJ2B, battery pack, charger, hand mic, and carry pouch

The earlier version of the TJ2B was reviewed in the February 2015 issue of QST

This item is presently being revised for a new release by YouKits in 2017. Out of stock.